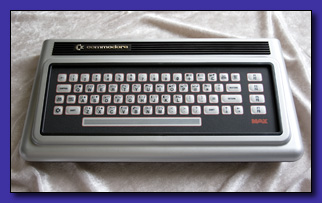 Max Machine / Ultimax / VC10
The Max Machine was developed in Japan alongside the C64 and used some of the same chips, but was meant to be a low end entry system similar to the VIC20 that came before. The C64 actually has a Max Machine mode and is compatible with the cartridges from the Max Machine. It only had a single 320x200 resolution and no multi-color like the C64. There was no Basic in the ROM on this device so you had to install a cartridge to use it for anything at all.
This machine was only released in Japan, although it was advertised in both USA (as Ultimax) and Germany (as VC-10). The machines are rare collectors items but often found in good condition since they werent very popular machines. Only a small handful of cartridge releases was available and the RAM was only 2.5 kb. The Max Basic cartridge only gives the user 2047 bytes to play with. Even worse was the MiniBasic that gave you 510 bytes free!!!
About Max Machine on Old-Computers.com
My Collection
These machines pop up on ebay USA now and then often from Japanese sellers and although it had a high price I invested in one that was absolutely mint and unused in its original box with everything. As a bonus it had a boxed Max Basic cartridge with manual. Although you can use a C64 psu on this (the one supplied is 110 volts which is no good here) - there is still the problem of NTSC RF signal. So I only get a black and white scrambled picture on my PAL tv for now. Looking for ways to get this puppy running full color.
Serial Number: 15614