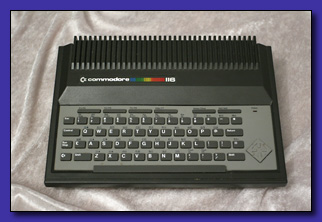 Commodore C116
The C116 is an odd little computer with rubber buttons keyboard that was basically a C16 in a cheaper to manufacture skin. It was only meant for Germany and Eastern Europe countries and was Commodores cheapest computer. With its 16 kb ram it was quite limited in what you could do with it although completely compatible with C16 and Plus4 since it used the same chipset as the whole 264 series. Similarly to the C16 and Plus4 it had the smaller style port for the Datasette as well as the small joystick ports.
In many ways I kinda like this small footprint computer, and feels a bit like the ZX Spectrum which I guess they intended this to compete agains. But the rubber keys are not very nice to use although for a first computer it must have been very nice for someone who never had used a computer before.
About C116 on Old-Computers.com
My Collection
As this was only made and sold in Germany and Eastern Europe I had to look on ebay germany to find this. Its in very good condition and should look almost brand new with a little cleaning (the pictures will show some dirt on the keyboard). The PSU on this one makes a nasty high-pitched sound, and its a quite small one compared to the C64.
Serial Number: DA4 28515